Trip to Andaman with Friends!
Traveling with friends was on our bucket list for a very long time! There were three of us, my twin brother and me, and our two best friends. But every time, something or the other deprived us of our dream! However, when God proposes, nothing can dispose it! So when our aunt told us about this low-cost tour package to the tropical paradise, Andaman Islands, we jumped at the idea! The land of the alluring blue sea, dense rainforests, and a clean and quiet environment! 
Who would want to miss the opportunity? So, we hurriedly contacted our tour operator Adventure Andaman, and booked one the best Andaman tour packages.
So as it was destined, one fine day, we found ourselves standing on the land of the Veritable Garden of Eden! No need to think, it is Port Blair! My friend was clueless too, and gave me a wry smile at my reply! However, he was more interested in visiting the Cellular Jail, what was known as the 'Kala Pani' during British India! Our first visit was to the scenic paradise Corbyn Cove Beach! And it was a stunner – A turquoise blue sea lying beside a radiant white strip of sand with coconut palms for company! It was so soothing to the heart! 
The quiet, tranquil environment was a much relief from the ever-buzzing sound of the traffic! And the crystal clear waters with coral reefs were a scene we had never seen! It was blissful! The eateries and shops were fun!
But being a History student, I was more interested in visiting the landmarks reminiscent of British India! For instance, the Light and Sound program! And I got so disappointed when tickets weren't available! But the grandeur of the Cellular Jail more or less made up for the loss! It awakened our patriotic love, and the torture born by our freedom fighters is still visible on the walls! 
That night we returned to the resort absorbed in love for our nation. However, we had already booked our ferry tickets Andamans to North Bay and Ross Island early in the morning left my brother and our friends, brimming with excitement!
My brother was hiding something from me, which I was trying to make out but could never do it! In the morning, we reached the Andaman Sports Complex, and my brother said we would first go to Ross Island when our program was to visit the North Bay! Little did I know that he wanted to give me the experience to cherish all my life! Sailing on the waves was a beautiful experience! But the wonder was waiting to unfold on the Island! The Penal Colony, O' My God! The remains of an entire colony during British India – The Bakery, Church, Government House, and Cemetery, Wow! It was indeed an exhilarating experience! I gave my brother a tight hug! Then we had a jolly good time in North Bay! 
The luscious taste of the Grilled Lobsters lingered on! We skipped water sports though, as Havelock had immense opportunities for diving in the aqua magic! But our second day was well spent and holding the experience in our hearts, we took to our beds!
The next day was our journey toward the people's favorite, Havelock! We caught the luxury cruise from Pheonix Bay Jetty! However, we reached late because our friend was busy in his dreams! I became nervous because it was our first experience! So we had to hurry to catch it! Those two hours were also an unforgettable experience!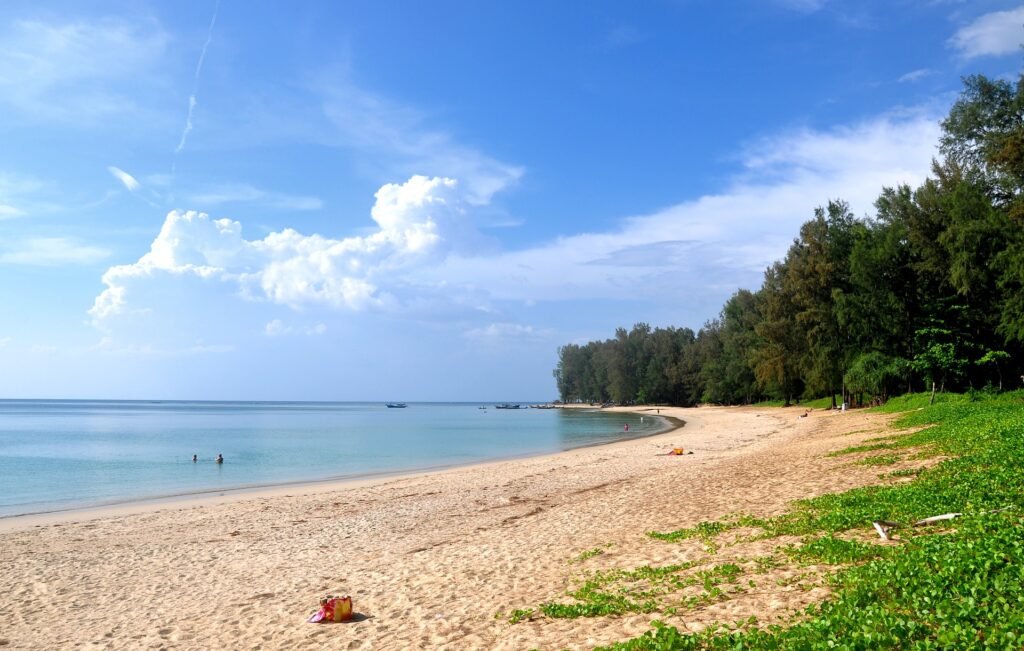 The tour support team received us at Havelock. The blue, pristine environment of Havelock was spectacular. The blue streak of the ocean seeped into our hearts! Our hotel was clean and hygienic, but the greenery and scenic surroundings were more beautiful! We could not wait to explore the place! The Radhanagar Beach, with its glistening bluish-green water was stunning! Our two friends registered for scuba diving. We brothers were hesitant initially. 
So we chose the safe, Glass Bottom Boat Ride and to be honest, we were left spellbound by the magical Coral Reefs! The vibrant colors combined with the mesmerizing life flowing beneath are beyond expression!
This ride inspired us to take up Snorkeling! And what a memorable experience it was to be amidst the mystical coral reefs. The gleaming starfish and octopus, earthworms and jellyfish, the entire scene were like a dream seen with open eyes! We all enjoyed ourselves like never before! But before we could fully explore Havelock, it was time to return to Port Blair! 
A tinge of disappointment ran through our hearts because we had never experienced such beauty! But we promised each other to return to the Andamans and this time for more days!
We returned to Port Blair and back to the hotel! We were all exhausted and also missing Havelock. But once we got off the ferry my friends hurriedly called the cab for Cellular Jail. 
I was clueless about what they were doing! I didn't know they had already booked tickets for the 'Light and Sound Show'! Such are true friends who take care of your dreams and wishes! What a grand show it was! We got to know the atrocities born by our freedom fighters at the hands of the British here in Andamans! We had dinner at the beautiful Amaya Restaurant! 
The sea-facing arrangement made the food even more delicious! But we did not have the time to enjoy our food as we had to rush to Aberdeen Bazar to shop for souvenirs! My aunt especially deserves it for showing us this fantastic spot on the world map called the Andamans! 
Aberdeen Bazar is another jewel in Port Blair! It is a mini world filled with awe-inspiring artifacts, clothes and jewelry! We picked up little gifts for our families!
It was late at night when we reached our hotel! We were tired, so we just went to sleep! The next day we departed for Kolkata with a heavy heart! It has been two months, but the whole scene is fresh in my memory! The blue reflection of the beach refuses to leave us! The Andamans are the blue glory one must experience at least once in his life to feel the joy of Beauty!
============================================================